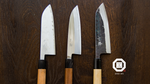 Crafted Selections
We offer the first knife that dramatically changes your cooking time for you.
"The kitchen knife I am using now is cheap and not cut at all."
"I'm a little interested in a real knife made by a knife craftsman ...however it seems expensive, and I don't want to spend money and fail..."

FOR YOU!

A long-established hardware store that has been in use since the Meiji period has proposed the Crafted Selection series that is easy to use with a double-edged knife, taking advantage of its goodness as a Western knife, and finished in a Japanese-style knife.

Crafted Selections Knifves are all handamade with natural materials.
By using natural wood, you can enjoy the change of texture like leather products while using it.
A kitchen knife will be quite the character as your cooking skills improve.
If you use it carefully, you can continue to use it for more than 10 years.
Also, we offer sufficient after-sales services.
Not only sharpening, it can handle a wide range of emergencies, such as blade spills and corrections.
We have the best support system for you who use a good knife for the first time.
Translation missing: ja.collections.general.no_matches